Gemini Studio of Madras released
Chandralekha
in
1948
. It was the first Tamil movie, in which more than 30 lakhs of rupees were spent and Gemini became the first Indian studio to attempt a nationwide distribution. S S Vasan did the direction, and the music was by S Rajeswara Rao. The production of this movie took a very long time. The film was released in 600 theatres worldwide. The movie is still remembered as a cultural extravaganza for its array of costumes and its famous drum–dance sequence and long sword–fight sequence.
The circus used extensively in the film's plot became famous as the
Gemini Circus
and is in existence till today. The movie was a huge success throughout India. This movie was released in Hindi too. It was released in foreign countries with English sub-titles. Presented here are songs from the Hindi version. At the time of the release of this film,
Uma Devi
(
aka
Tun Tun) was at the peak of her singing career.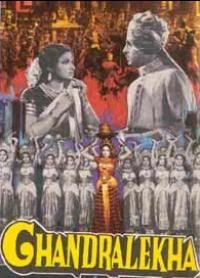 Uma Devi - Maai Re Main To Madhuban Mein
:
Uma Devi - Man Bhavan Sawan Aaya
:
Uma Devi - O Chand Mere
:
Uma Devi - Sajana Re Aaja Re
:
Uma Devi & T A Moti - Sanjh Ki Bela
:
Zohrabai Ambalawali & T A Moti - Mera Husn Lootne Aaya
:
.. more Vintage Films »