Nadiya Ke Paar
(
Hindi
: नदिया के पार) is a
1949
(
or is it 1948?
) Hindi film produced by Filmistan Studios and directed by Kishore Sahu (
remember him? he played Dev Anand's father in the 1972 film Hare Rama Hare Krishna
). The film starred Dilip Kumar, Kamini Kaushal, S L Puri, Maya Bannerjee, David, Tiwari and Ranibala. Music was directed by C Ramchandra (who preferred the name
Chitalkar
when he sang). The film must not be confused with Rajshri Production's 1982 film of the same name, starring Sachin and Sadhna Singh. Both films, however, had one thing in common. They both had a strong Bhojpuri storyline, rustic Bhojpuri dialogues and great songs.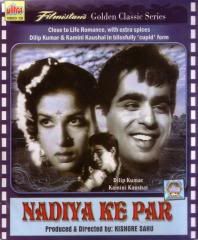 Surinder Kaur - Akhiya Milake
:
Lalita Dewoolkar - Dil Leke Bhaga
:
Lalita Dewoolkar & Chitalkar - Katwa Ke Naiyya
:
Lalita Dewoolkar & Mohd Rafi - More Raja Ho
:
Lalita Dewoolkar & Chitalkar - Najariya Mein Aayi Ho
:
Shamshad Begum & Mohd Rafi - Do Char Din Pyar Se
:
Shamshad Begum & Chitalkar - Maar Gayo Re
:
Lata Mangeshkar & Chitalkar - O Gori O Chhori
: